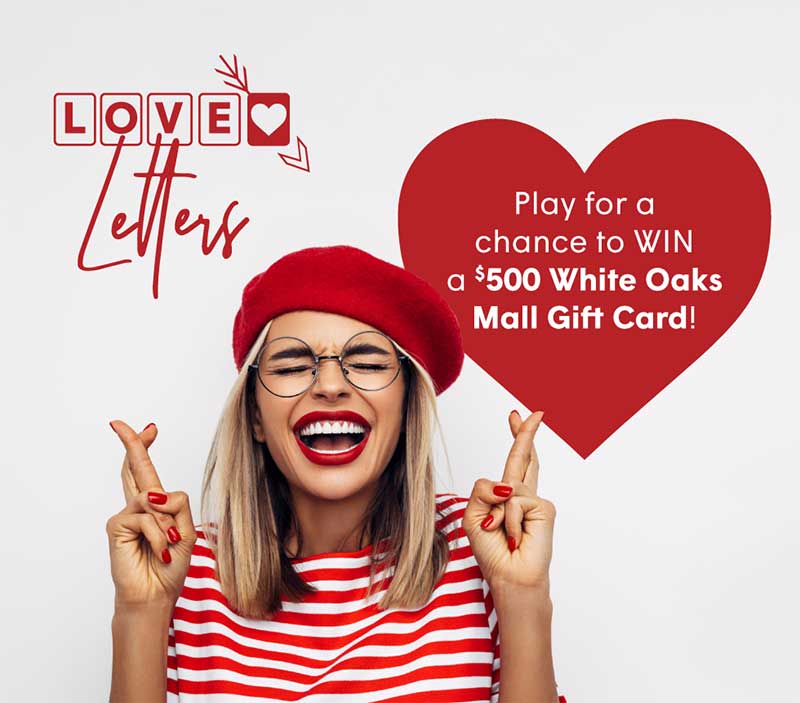 White Oaks Mall – Win a $500 White Oaks Mall Gift Card (the "Contest")
The Contest is sponsored by White Oaks Mall (the "Sponsor") and is only available in White Oaks Mall, London Ontario. Contest begins on Monday, February 7, 2022 at 12:00:00 a.m. Eastern Time (ET) and ends on Sunday, February 13, 2022 at 11:59:59 p.m. (ET) (the "Contest Period"). NO PURCHASE NECESSARY. Making a purchase will not increase chances of winning. The Contest is subject to all applicable federal, provincial and local laws and regulations, and is void where prohibited.
1. ELIGIBILITY
The Contest is open to all residents of Ontario, who have reached the age of majority in their province at the time of entry. The Contest is not open to: (i) employees, officers, directors, representatives or agents of the Sponsor, or the Contest's administrator, or any of their respective parent companies, subsidiaries and affiliates; (ii) the spouse and any member of the immediate family (defined as biological, step or adoptive mother, father, daughter, son, sister or brother) of any person described in (i); and (iii) any person who resides with any person described in (i) or (ii).
Participation constitutes entrant's full and unconditional agreement to these Rules and the Sponsor and administrator's decisions, which are final and binding in all matters related to the Contest. In order to be eligible to win the Grand Prize in the Contest, entrants must comply with these Rules.
2. HOW TO ENTER AND GET MULTIPLE DAILY ENTRIES
To enter the Contest, participants will need to:
a. Enter via WhiteOaksMall.ca/LoveLetters (the "Contest Website") and follow the link to the contest registration page; and
b. Complete the entry form on the Contest Website by filling in your name, e-mail address and telephone number.
c. Then submit the registration form by clicking on the "Submit" button. Administrator's computer is the official time keeping device for the Contest. Online entries must be received by 11:59:59 p.m. (ET) on Sunday, February 13, 2022.
d. Upon successful form submission, you will be able to play the word game to get up to 6 additional entries per day.
There is a limit of one (1) form entry and up to 6 additional word game entries per day, per email address.
3. PRIZES
Grand Prize:
The Grand Prize consists of one (1) $500 White Oaks Mall gift card (the "Grand Prize"). The retail value of the Grand Prize is $500.00 CDN.
The Grand Prize is non-transferable and no substitution will be made unless Sponsor, in its sole discretion, determines otherwise. Sponsor reserves the right to substitute a prize for one of equal or greater value should it become unavailable for any reason. The Winner is responsible for all taxes and fees associated with prize receipt and/or use.
4. SELECTION OF POTENTIAL PRIZE WINNER AND PRIZE CLAIM
a. Potential Grand Prize Winner
At approximately 10:00 a.m. (ET) on Monday, February 14, 2022 in London, ON, a computerized random draw will be conducted from all valid entries received during the Contest Period. Odds of winning will depend on the number of eligible entries received. The Grand Prize shall be awarded to the first selected entrant, whose name is randomly selected from all valid entries.
b. Claim Process for Grand Prize
The selected entrant will be notified by e-mail or telephone that he/she/they were selected to receive the Grand Prize. Before being declared a Grand Prize winner, each selected entrant will be required to correctly answer a time-limited, mathematical skill-testing question, without assistance of any kind whether mechanical or otherwise, to be administered at a mutually convenient time by telephone. Each selected entrant will also be required to sign and return, within the time stipulated in the documents, a Declaration of Compliance with these Rules and a Liability and Publicity Release (collectively, the "Declaration and Release"). Once completed, the winner's contact information will be forwarded to the Sponsor or representative to arrange the prize fulfillment
If the selected entrant cannot be reached within three (3) days of the date of being declared a potential winner, fails to submit the completed Declaration and Release within the time allotted, or fails to correctly answer the skill-testing question within the time allotted, the Sponsor or Administrator shall conclude that the selected entrant has forfeited the Grand Prize, which may then be awarded to an alternate eligible entrant at the Sponsor's discretion.
5. CONDITIONS OF ENTRY
All entries become the property of the Sponsor and will not be returned.
Any use of automated devices is prohibited. Entries attempted by methods other than those described in these Official Rules shall be deemed void. Any attempt by any participant to obtain more than the stated number of entries by using multiple/different e-mail addresses, identities, registrations and logins, or any other methods will void that participant's entries and that participant may be disqualified. Use of any automated system to participate is prohibited and will result in disqualification.
In the event of a dispute as to any registration, the authorized account holder of the e-mail address used to register will be deemed to be the registrant or player. The "authorized account holder" is the natural person assigned an e-mail address by an Internet access provider, online service provider or other organization responsible for assigning e-mail addresses for the domain associated with the submitted address. A selected entrant may be required to provide Sponsor with proof that he/she is the authorized account holder of the e-mail address associated with the selected entry. Proof of sending will not be deemed to be proof of receipt.
Sponsor also reserves the right at its sole discretion to disqualify from this Contest, and any future contest or other promotion Sponsor conducts, any individual that it finds or believes to be tampering with the entry process, or the operation of the Contest or Contest Website, to be acting in violation of the Official Rules or in an unsportsmanlike or disruptive manner, or with intent to annoy, abuse, threaten or harass any other person.
ANY ATTEMPT BY AN ENTRANT OR ANY OTHER PERSON TO DELIBERATELY DAMAGE ANY WEBSITE USED IN ASSOCIATION WITH THE CONTEST, OR UNDERMINE THE LEGITIMATE OPERATION OF THE CONTEST IS A VIOLATION OF CRIMINAL AND CIVIL LAWS AND SHOULD SUCH AN ATTEMPT BE MADE, SPONSOR RESERVES THE RIGHT TO SEEK DAMAGES FROM ANY SUCH PERSON TO THE FULLEST EXTENT PERMITTED BY LAW.
6. CONSENT TO COLLECTION, USE AND DISCLOSURE OF PERSONAL INFORMATION
By entering the Contest and/or voluntarily providing his/her personal information, each entrant consents and agrees to the collection, use and disclosure of the entrant's personal information by Sponsor and its third-party services' providers for the purpose of administering the Contest and fulfilling the Grand Prize. The Sponsor will not use an entrant's personal information for any other reason, nor will the Sponsor otherwise disclose it to any third party without consent of entrant. Visit www.bentallgreenoak.com/privacy.php for additional information on how your personal information is being handled.
7. RELEASE
By entering the Contest, entrants agree that the Sponsor shall not be responsible or liable for any losses or injuries of any kind resulting from participating in the Contest or acceptance, possession and/or use or misuse of the Grand Prize, or any part thereof, and agree to release, discharge and hold harmless the Sponsor, and its respective officers, directors, parent companies, subsidiaries, affiliates, related companies, advertising and promotional agencies, Participating Tenants, Contest administrators, third party services' providers and prize suppliers (collectively, the "Releasees") from all claims or damages arising out of entrant's participation in the Contest and/or acceptance, use or misuse of the Grand Prize, or any part thereof. By accepting the Grand Prize, the prize winner agrees to the use of his/her name, city of residence, photograph and/or other likeness in any related publicity for Sponsor, in any medium, including presence on the Sponsor's website, without further compensation or permission, worldwide and in perpetuity. Sponsor makes no representation or warranty that any identification, videotape, photograph and/or likeness of the winner will be broadcast or used otherwise in any manner.
8. LIABILITY
All decisions of the Sponsor and the Contest's administrator are final and binding in all matters relating to this Contest, and the Sponsor and the administrator shall not be held responsible for any accident, negligence, printing, administrative or other errors that may arise or occur in connection with the Contest. The Sponsor reserves the right to modify, amend, suspend, or terminate this Contest in whole or in part, at any time without notice and with no obligation or liability, subject to applicable law. If the Contest is terminated, in whole or in part, before the end of the Contest Period, the Sponsor reserves the right to select the winner in a random drawing from all eligible, non-suspect entries recorded and received by the Sponsor as of the date of the termination or the event causing or relating to the termination, as determined by the Sponsor in its own discretion.
The Contest Sponsor and affiliates are not responsible for: (a) any incorrect or inaccurate information, whether caused by entrants, printing errors or by any of the equipment or programming associated with or utilized in the Contest; (b) technical failures of any kind, including, but not limited to malfunctions, interruptions or disconnections in phone lines or network hardware or software; (c) unauthorized human intervention in any part of the entry process or the Contest; (d) technical or human error which may occur in the administration of the Contest or the processing of entries; (e) any injury or damage to persons or property which may be caused, directly or indirectly, in whole or in part, from entrant's participation in the Contest or receipt or use or misuse of any prize; (f) the security or privacy of information transmitted via computer networks; or (g) breaches of privacy due to interference by third party computer hackers or for any damage caused to or incurred by any eligible entrant or any other person by reason of any such event or occurrence. If for any reason an entrant's entry is confirmed to have been erroneously deleted, lost or otherwise destroyed or corrupted, entrant's sole remedy is another entry in the Contest, unless it is not possible to award another entry due to discontinuance of the Contest, or any part of it, for any reason, in which case entrant will have no remedy against Sponsor. No more than the stated number of prizes will be awarded. In the event that production, technical, seeding, programming or any other reasons cause more than the stated number of prizes as set forth in these Rules to be available and/or claimed, Sponsor reserves the right to award only the stated number of prizes by a random drawing among all legitimate, unawarded, eligible prize claims. Entries are subject to verification and will be declared invalid if they are incomplete, garbled, forged, falsified, altered or tampered with in any way.
9. DISPUTE
All issues and questions concerning the construction, validity, interpretation and enforceability of these Official Rules, or the rights and obligations of the entrant and Sponsor in connection with the Sweepstakes, shall be governed by, and construed in accordance with, the laws of Ontario.