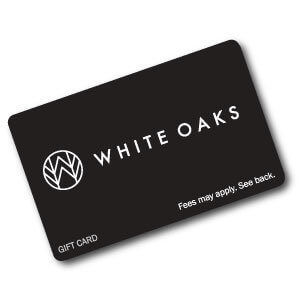 The White Oaks Mall Gift Card makes it easy to pick the perfect gift at the perfect amount. Gift Cards are available at the Guest Services Kiosk in any denomination from $5 to $500. Payment accepted by Interac, Visa, MasterCard or Cash.
To check your balance on your White Oaks Mall Gift Card visit www.getmybalance.com
There is NO activation fee associated with the purchase of the card. However, after 15 months of activation a monthly maintenance fee of $2.50 is apply to the card.
The stores that do NOT accept the White Oaks gift card are:
Dollarama
Feta & Olives
Tim Hortons
Villa Madina
Virgin Mobile
McDonalds in Walmart
White Oaks Dental Centre
White Oaks Ticket Centre
All Financial Institutions
Once an order is completed, there are no refunds or cancellations.
As soon as you realize your White Oaks Mall gift card is missing, visit or call our Guest Services at 519-681-0434. They will be able to transfer the remaining balance on to a new card.
Yes, just visit Guest Services anytime during regular shopping hours with the gift cards that you would like to combine.
To check a gift card balance you can either call 1-800-755-8608 or visit getmybalance.com. The available balance is also on purchase receipts, it is indicated in the authorization code at the bottom.
Merchandise returns must follow store's policies. Please note that store return policies do vary from store to store.
Guest Services can help with your corporate order. For a large number of cards, you are welcome to call ahead so that the order is ready when you come to pick it up. Please note that there is no limit on the amount you can order, however additional information will be requested for any purchase equal or over $3,000.